Made in Germany!
CERTUSS steam generators are built entirely in Germany from high-quality materials and first-class components from well-known manufacturers. In addition to individual boiler installation, the complete equipment can be delivered as a ready-to-use, and ready-to-install supply unit (CVE), minimizing installation work and the risk of installation mistakes.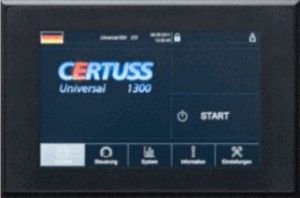 The TC boilers with built-in touchscreen graphically guides the operator through all application steps, shows operating status or reports errors, and provides access to additional equipment-related functions, or reminds the user about maintenance appointments and further preventive measures to maintain operational safety. TC means Touch-Control.
Various auxiliary equipment, like the Thermotimat-Control (which allows personnel-free, fully automatic operation of the CERTUSS systems), accommodates different customer requirements. All signals can be integrated into the on-site control technology (BMS), or can also be integrated into a company's network.
Customer service and spare parts supply are exemplary!
Series JUNIOR TC:
---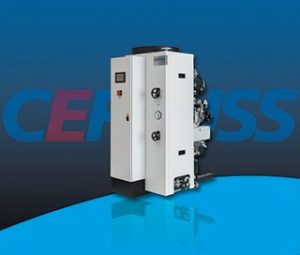 The new generation of a proven concept. Capacity 80 – 400 kg steam/hour, with gas, or oil heating, electronic PLC control with touch screen, fits into smallest spaces.
Mod.
JUNIOR TC
Heating
Gas or Oil
Steam capacity kg/h
80 – 120
150 – 200
250 – 400
Heat capacity kW
53 – 79
99 – 131
164 – 262
Nominal load kW kW
58 – 87
109 – 145
182 – 291
hight / width / depth mm
1500 / 700 / 1210
1750 / 740 / 1375
1850 / 830 / 1510
max. working pressure bar
8 / 14 / 22 / 29
Safety valve bar
10 / 16 / 25 / 32
Alterations reserved
Series Universal TC:
---
The new generation of a proven system. Capacity 500-2000 kg steam/h. Electronic PLC control with touch screen. Burner for natural gas, LPG, extra light heating oil, or combination (natural gas/heating oil).
Immediate, continuous power adjustment between 50 and 100% via modulating gas burner, or in 2 steps for oil, and combination burners.
Mod.
UNIVERAL TC
Heating
Gas, Oil, or Combination
Steam capacity kg/h
500 – 600
700 – 850
1000 – 1300
1500 – 1800
Heat capacity kW
328 – 393
459 – 557
656 – 853
984 – 1180
Nominal load kW
364 – 436
510 – 619
728 – 947
1093 – 1311
hight / width / depth mm
1980 / 930 / 1600
2290 / 1160 / 1870
2535 / 1260 / 2125
2675 / 1380 / 2310
max. working pressure bar
8 / 14 / 22 / 29
Safety valve bar
10 / 16 / 25 / 32
Alterations reserved
Multiple Systems:
---
There are various reasons for a multiple system. Do you need more than 2,000 kg steam/h, either permanently or only for the peak load?
In this case several boilers can be combined with each other, which also leads to greater operational safety and reliability in the event of a boiler failure.
In the case of technologies with very different steam requirements, one boiler can cover the basic load, while other boilers switch on only when larger capacity is required.
The other (stand-by)-boilers are switched off during the base load; this flexibility saves considerable energy.
This procedure can work fully automatic with the cascade control. You can also combine different boiler sizes and heating mediums.
---
Advantages of CERTUSS Technology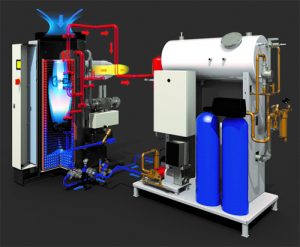 Construction:
Robust all-steel design with highly efficient air insulation
Air intake from top, accumulation heat in the boiler house is sucked off, dirt remains on the floor
Noise and vibration absorption, elastic aggregate suspension
Vertical, tension-free central suspension of the heating system with bottom point drainage
Available with burners for natural gas, liquified petroleum gas, extra light heating oil, or fuel combination.
Built according to the latest CE regulations for burners, tested and approved by TÜV Rheinland
Small space requirement
Optional flue gas recirculation (NOx-reduction)
Economically:
Extremely high efficiency (up to 98% with economizer and up to 102% with 2nd heat exchanger) due to a 3-fold sheathing with air insulation-, and combustion-air preheating with minimum radiation losses
Short heating up. Full steam output is achieved after a maximum of 5 minutes
Immediate energy and thus cost saving performance adjustment to the respective steam demand
Low-emission burners specifically developed according to the latest European standards for every model
Gas burner with modulating control between 50 and 100% of steam output (oil burners with 2-step-control: 50 and 100%)
Low maintenance and variable-speed feed-water pump
User Friendly:
Simple operation by self-explanatory touchscreen menu navigation
Graphically supported instructions for startup and shutdown
"Thermotimat" option for fully automatic operation, without manual intervention
Remote control and monitoring via Ethernet, or cell phone (optional)
Optional: CVE supply-unit with ready to use installation of equipment like boiler feed pump, feedwater tank, steam dryer, water treatment, and waste water mixer
Operation and Installation:
Safe installation without foundation and with small space requirement
Installation in workrooms possible, no boiler house necessary
Equipment for operation without manual intervention (optional)
Multi-level user administration

Safety and Quality
Function and malfunction indicators can be connected to on-site CCS (central control system) / building management system (BMS)
Remote programming, readout or control via Ethernet, Canbus, Profibus, or GSM / UMTS modem (optional)
Function and error messages, as well as service instructions by plain text display in all languages
24/7 Customer service, 365 days a year
Supply of spare parts guaranteed for 25 years
Exemplary Service and Spare Parts Supply
More advantages can be found here!