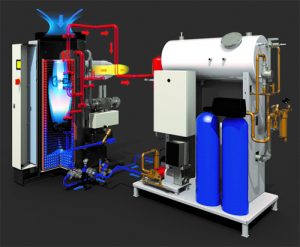 Better in Energy Savings:
CERTUSS boilers have less than 0.2% (=2 of 1000) radiation loss due to the unique air insulation with simultaneous pre-heating of the burner air.
The different heat recovery systems save additional energy (eg. economiser CERTECON, condensate heat recovery PARCOVAP®, desalination heat exchanger AB-WT), and allow an efficiency of up to 98%.
Minimum start-up losses (only 3-5 minutes for heating up to full power), minimum drainage losses.
Total unmatched overall efficiency.
Simple Building-Up and Installation:
Small floor space, no foundation, no special boiler house required.
Completely safe steam boiler, therefore simpler regulations throughout Europe for installation and monitoring. For example, usually there is no certified boiler attendant required, even until to 27 bar steam pressure.
The boilers can also be set up on roof of a building, resulting in significant savings on chimney.
All boilers are delivered as ready-to-use units with an integrated burner, on request with the compact CVE supply-unit, where all components are already fully installed.
Decades of Safety:
Long life-time due to optimal thermal distribution and low heating surface load.
High quality standard of a branded product, certified according to ISO 9001 quality standard.
We provide exemplary service and spare parts delivery over more than 60 years.
Optional flue gas recirculation reduces nitrogen oxides (NOx reduction), and thus protects our environment.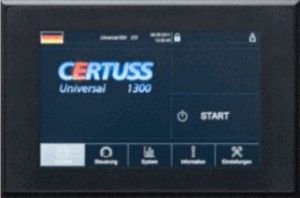 TOUCH CONTROL
The PLC runs and monitors the boiler, as well as records operating conditions and causes of faults. This can prevent boiler malfunctions or damages! Optionally, the boiler can be monitored online worldwide.